Ellison Bluff Bed and Breakfast
Home | Rooms | Rates | Directions | Contact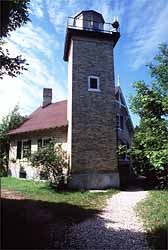 Our warm 1880's lighthouse and home is furnished with antiques.
Each room has it's own fireplace and private whirlpool bath.
Relax in our large, screened gazebo overlooking the water it's perfect spot for watching the sunset.
Enjoy a stroll on a path through beautiful perennial tower garden and listen to the songs of the birds.
Guest are served a full country breakfast each morning.
Last Date Update: April, 2003
Copyrightę2003 Fahmida Sultana