Ellison Bluff Bed and Breakfast
Home | Rooms | Rates | Directions | Contact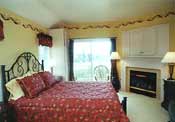 Relax in luxurious, stylish, surroundings.
Both rooms are second floor bedrooms.
Each have their own fireplace, TV/VCR, queen size bed, private bath, double whirlpool tub and outside desk.

Cana Island Room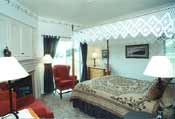 All room rates include a breakfast which is served each morning in the Dining Room.
We are a smoke-free Inn with air conditioning and ADA accessibility.
In consideration of our guest, we cannot accommodate children and pets.

Eagle Buff Room
Last Date Update: April, 2003
Copyrightę2003 Fahmida Sultana